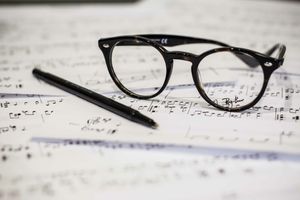 Musicista, Cantautore, Compositore e Didatta
My Music
0:00/3:42

0:00/5:50

0:00/4:30

0:00/3:00

0:00/5:11

0:00/4:13
Meraviglioso
Riccardo Lorusso
Free only for a limited time - will be included with other bonus material in the ORDER of MY FIRST ALBUM "RIFLESSI"
Read more…
Sounds
Apulian Soundscapes
Riflessi
Riccardo Lorusso
"There is no complete spiritual life without music, for the human soul has regions which can be illuminated only by music." - Z. Kodàly
ABOUT
Studia Chitarra Jazz presso il Conservatorio "N. Piccinni" di Bari, dopo consegue la laurea in Didattica della Musica, presso 
il Conservatorio " N. Rota" di Monopoli (BA), con il massimo dei voti e lode e la Laurea in Composizione per Musica 
Applicata alle immagini (Colonne Sonore), presso il Conservatorio "E.R. Duni" di Matera, con il massimo dei voti. 
Oltre ad esibirsi con prestigio a livello nazionale che internazionale come Cantautore, e session man Voce e Chitarra,  è membro attuale di varie
orchestre di diverso genere musicale e diverse formazioni cameristiche, tra le quali SUDESTADA Ensemble (Musica Gypsy Klezmer, World
Music), FEELING ALIVE Acoustic Duo con la cantante jazz  Lycia GISSI (da diversi anni attivi in rinomate manifestazioni ed eventi concertistici),
THE MANOUCHOW che unisce lo swing allo spirito tzigano, con un repertorio che tocca i generi del jazz, dello swing e della bossa nova (con
Valeria MOSCA alla voce, Riccardo LORUSSO alla Chitarra manouche/Voce/Tres cubano, ed eventuali strumenti in aggiunta) e APULIAN
SOUNDSCAPES con il pianista Roberto FASCIANO, progetto di musica ambient / elettronica dove si coniugano i suoni clean ed ambient della
chitarra elettrica con vie sperimentali, pad e tappeti eterei, con la acustica risonante del pianoforte, e con composizioni completamente inedite
dedicate alla loro terra natia: la Puglia. 
Attento alla pedagogia musicale tradizione e sia sperimentale, è direttore di coro nonché esperto specialista del metodo 
corale- vocale KODALY, specializzatosi nel 2015, nel 2017 e 2019 in Ungheria presso il prestigioso Istituto Kodaly, 
nella sede storica a Kecskemét, vincendo la Borsa di Studio offerta dal Ministero della Cultura Ungherese. 
Organizza presso il plesso "Don Bosco-Manzoni" di Andria, il suo progetto sperimentale di Educazione Musicale 
FANTASIA E MUSICA, con concetti pedagogici di KODALY, KOKAS, ORFF, DALCROZE. 
Oltre a impartire lezioni private, ha all'attivo diverse cattedre di insegnamento: Docente di Chitarra e Canto corale presso il Liceo Classico "De Sanctis" di 
Trani, e come Docente di Chitarra e Teoria Musicale presso la Scuola di Musica "Il Giardino dei Suoni" di Andria, Accademia " 
Curci" di Barletta, e Accademia "Arcadia" di Trani.